The Tourettes, to put it scientifically, is a band which loves you. This page attempts to offer information about the phenomenon that is... THE TOURETTES.
Upcoming Shows This may contain as many as 1 shows.
Mission Statement This page may or may not contain nothing but the single sentence "To Rock Your Socks Off".
Songs Tourettes MP3s. Not sure whether you want to book us? Why don't you give us a listen? Download and enjoy these nuggets of musical delight.
Bios Brief bios of all the members of the Tourettes.
FAQ Frequently asked questions pertaining to our band and ourselves.
Have Fun! The Tourettes really do want to party with you!
Buy the album! The Tourettes' new CD, "Life is Pretty" is now available at a low, low price!!!
Bookings Information on how to get us for your next special event. We do New York and New Haven area clubs, shows, concerts, weddings, bar mitzvahs, basements, etc.
The Tourettes Cut A Record: Life is Pretty!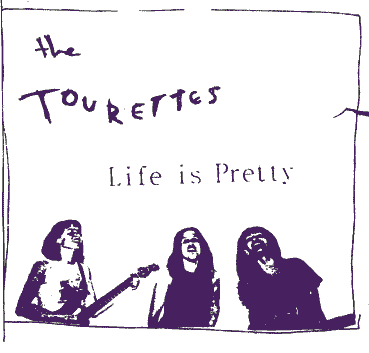 Here's what some guy* at the New Haven Advocate has to say about the Tourettes' freshman effort, "Life is Pretty": like "tooth-cracking sweet bubble gum" the band's "well-constructed, lo-fi, smirking, garagey" sound features "more tongue-in-cheek humor than your first Frenching session." Ever wanted to have a Frenching session with a "slumber party made up of a 7th grade girls' gym class"? Put on those tube socks, honey, send us $10, and get ready to sweat! Send your cash or check (made out to Alejandra O'Leary), plus a fake name and a real address, to:


The Tourettes
P.O. Box 200727
New Haven, CT 06520-0727


& you'll get 13 tracks of kissable, snugglable, musical kickball. Or something.


*PS: This guy also thinks Caolan sounds like the girl from the Baby Got Back video. What do you think? E-mail Caolan at caolan.madden@aya.yale.edu! You can also ask her any pertinent questions you got about the album. But don't ask her to be on your sleepover softball team, because she throws like a sleeping girl. For real!
Press Coverage
Want to read more absurd text about the Tourettes? Follow the links below!
A real sweet review from our alma mater's daily paper
We said inane things to this New Haven Advocate reporter and she wrote a profile on us! (You'll have to scroll down to read it.)
The Advocate covered our farewell show at BAR in New Haven. You have to scroll down for this one, too.
All music copyright 2002, The Tourettes (Alejandra O'Leary, Dawn Chan, Caolan Madden, Joanna Neborsky, Sara Sani, Hannah Whitaker), except for "Nothing But A Heartache" by Bickerton/Waddington and "You're No Good" by Ballard. Art and webdesign copyright 2002, Laura Hughes (Caolan's boyfriend's sister).